Supreme Court declines to review parallel importer's suit against Heineken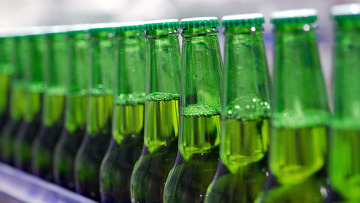 15:02 03/04/2014
MOSCOW, April 3 (RAPSI) – Russia's Supreme Court will not review the dismissal of a lawsuit seeking the early termination of brewer Heineken Ceska Republica's legal protection of the Krusovice trademark, RIA Novosti reported Thursday.
The lawsuit, filed by Aqualife – a parallel importer of Krusovice, was rejected by Moscow Commercial Court. An appeals court and a court of cassation then upheld the ruling.
"Parallel" or "grey" imports are goods imported from another country without the permission of the official manufacturer. The Supreme Commercial Court confirmed in November that parallel imports are illegal.
According to the Register of the Federal Service for Intellectual Property (Rospatent), the Krusovice brand was registered in Russia in 2004 as the property of Heineken Ceska Republica in relation to just one commodity - beer.
A lawyer representing Aqualife said during the court hearing that the company is interested in the brand because its capacity to place the product on the market is limited without it.
Meanwhile, a Heineken Ceska attorney stated that is not using the brand in Russia but only carrying out imports into Russia.
Earlier, the court dismissed another lawsuit filed by Aqualife against Diadgeo Ireland to terminate legal protection of the Guinness trademark. In April 2013, the court upheld Diadgeo Irelands lawsuit banning Aqualife from importing and marketing Guinness beer in Russia. Furthermore, the court satisfied a lawsuit filed by the Aqualife soft drinks production company against the importer seeking to prevent it from using the Aqualife name.
Heineken is one of the biggest brewing companies in the world. It operates in 71 countries, including Russia, where it began business in February 2002 after buying its first brewery in St. Petersburg.
Currently, Heineken owns eight breweries in Russia. The company's portfolio contains around 30 brands, including the popular international trademarks Heineken, Amstel Premium Pilsener, Zlaty Bazant, Guinness and Desperados.