Arrested Ukrainian riot police chief suspected of ordering shootings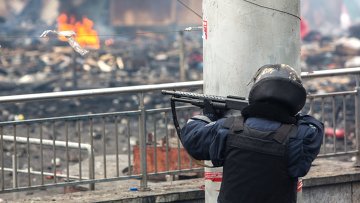 11:16 23/04/2014
KIEV, April 23 (RAPSI) - The Court of Appeal has amended the pre-trial holding conditions for Dmitry Sadovnik, chief of the Berkut special police force, from house arrest to detention, on suspicion of organizing the shooting of protesters on Maidan Square last February, the UNIAN agency reported Tuesday.
The court did not specify why the restriction was changed for Sadovnik and noted that the judicial panel only announced the substantive provisions. The Pechyora District Court of Kiev placed Sadovnik under house arrest in early April.
Earlier, the Interior Ministry of Ukraine announced that as many as 19 Berkut officers could be involved in the shooting of people on Institutskaya Street in Kiev.
On February 22, a regime change took place in Ukraine in the form of a coup. The Verkhovna Rada impeached the president, Viktor Yanukovych, amended the constitution and scheduled an election for May 25.
After the shift in power, the majority of Berkut personnel arrived in Crimea, the region that joined Russia after a referendum. At a news conference in Simferopol on March 7, Berkut Major Oleksander Vasyukov dismissed claims that during the riots in Kiev, Berkut snipers opened fire, calling the accusations lies. He said that his fellow officers did not take firearms to Kiev and that they remained stored at the Berkut base in Simferopol. Vasyukov said that they "didn't even have the equipment to fire the plastic bullets that were distributed toward the end of the riots."