IP court upholds ruling in Hershey vs Russian confectionary case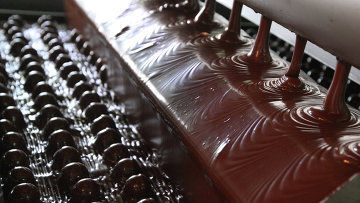 13:43 28/04/2014
MOSCOW, April 28 (RAPSI) – Russia's Intellectual Property Court (IP Court) has upheld a lower court's ruling in a lawsuit filed by The Hershey Company to terminate the legal protection of the IceBReAKeR trademark of the Krasny Oktyabr confectionery, RAPSI learned in court on Monday.
The IceBReAKeR trademark was registered for the Russian confectionery's butterscotch candy in March 1996 under Class 30 of the Nice Classification (confectionery, including candy). The Hershey Company produces ICE BREAKERS mints and gum products.
A Hershey attorney said in the court of first instance hearing that the defendant had not used the brand and that the plaintiff had tried to settle the issue out of court. The attorney said that Hershey offered Krasny Oktyabr $15,000 to give up the brand name. The attorney for Krasny Oktyabr argued that Hershey did not provide documented proof of its intention to use the brand.
Krasny Oktyabr is part of United Confectioners, the leading Russian confectionery company consisting of 15 other Russian confectionery and foods divisions.
The Hershey Company is the largest producer of quality chocolate and non-chocolate confectionery and chocolate-related grocery products in North America. Its head office is in Hershey, Pennsylvania. Its famous brands include Hershey's Kisses, Kit Kat, Twizzlers, etc. The company employs over 12,000 people.