Latvian court extends detention of alleged member of Crimean self-defense forces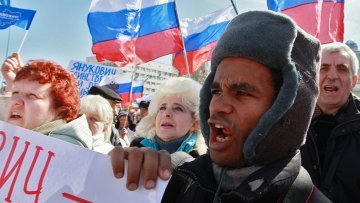 17:45 30/05/2014
RIGA, May 30 (RAPSI) - Riga's Central District Court has extended for two months the detention of Benes Aijo, member of the National Bolshevik movement, who joined the Crimean self-defense forces and is accused of calling for a deposition of the Latvian government, the court told RAPSI on Friday.
The court held that Aijo must remain jailed because he can pose a threat to public safety.
Riga's Central District Court arrested Aijo on May 16. Before his arrest at the Riga airport, Aijo was deported from Ukraine after trying to enter the country in violation of a three-year entry ban. Aijo's attorney Illarion Girs described the court ruling as politically motivated.
In 2005, Aijo was convicted in Latvia for plotting to overthrow the government and sentenced for nine years. However, the court of appeals later replaced the prison sentence with a 13,600 euro fine.
Another case was opened against Aijo for his calls to depose the government and annihilate Latvia's independence. In late March, the media reported that the country's Department of Citizenship and Immigration Issues began Aijo's citizenship revocation process. The activist claimed he was being persecuted for his efforts to preserve Russian-language education in Latvia and said he was a member of the Headquarters for the Protection of Russian Schools.
Crimea, a largely Russian-speaking republic, was part of Russia until Khrushchev gave it to Ukraine in 1954. President Putin said in an address to federal and regional officials in March that the decision was made in clear violation of the constitutional standards of the time.
Crimea moved for independence from Ukraine after having refused to recognize the legitimacy of the new government that came to power following the ouster of President Viktor Yanukovych in February.
On March 17, President Putin signed a decree recognizing Crimea as an independent state. The same day, the leaders of Crimea and the city of Sevastopol and Putin signed a treaty on the unification of Crimea with Russia.