Convicted Politkovskaya murder mastermind appeals sentence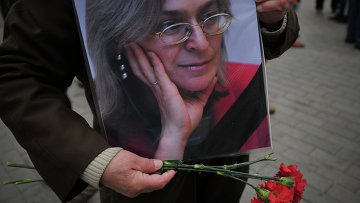 14:33 10/06/2014
MOSCOW, June 10 (RAPSI) – Defense of former police officer Sergei Khadzhikurbanov convicted of journalist Anna Politkovskaya's murder has appealed the verdict, the Moscow City Court's press office chief Ulyana Tolobova told RAPSI.
On Monday, the Moscow City Court sentenced Khadzhikurbanov to 20 years in a maximum security penal colony for organizing the murder of Politkovskaya. His attorney has asked to vacate the judgment and remand the case for a new trial.
Another mastermind Lom-Ali Gaitukayev and killer Rustam Makhmudov were sentenced to life in prison.
Two other defendants, Dzhabrail Makhmudov and Ibragim Makhmudov, were convicted as accomplices to the crime. Dzhabrail drove Rustam to the scene of the crime, and Ibragim told him that the journalist was approaching her apartment building.
Dzhabrail Makhmudov got a 14-year sentence. Ibragim Makhmudov was sentenced to 12 years in prison.
Moreover, the court granted a lawsuit filed by Politkovskaya's children seeking one million rubles ($29,129) from each of the five defendants.
On October 7, 2006, Politkovskaya, a crusading reporter with the independent Novaya Gazeta newspaper, was shot dead at the age of 48 in the elevator of her central Moscow apartment building. The murder has been linked to her coverage of human rights abuses in Chechnya.
One suspect, former police officer Dmitry Pavlyuchenkov, was convicted in connection with the killing in a separate trial in December 2012. He reached a plea bargain with investigators and testified against the other suspects in the case.