Turncoat banker Gitelson's fraud case referred to court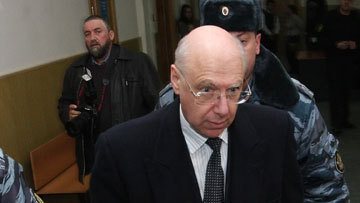 11:27 01/07/2014
MOSCOW, July 1 (RAPSI) – Investigators and prosecutors in St.Petersburg have referred to a court a 5 billion-ruble fraud case against Alexander Gitelson, former owner of the Bank of East European Finance Corporation (EEFC Bank, St. Petersburg) and former board chairman of Inkasbank, Russia's Investigative Committee's official spokesman Vladimir Markin announced Tuesday.
According to the Investigative Committee, from May 2006 to May 2007, Alexander Gitelson established control over several banks, including Russian Vyborg Bank and Urals Trust Bank, and Serbian Bank EEFC Banja Luka. From January to April 2007, 5 billion rubles (about $150 million) were transferred to Gitelson's accounts with EEFC from the Banja Luka bank. Investigators allege that Gitelson then illegally withdrew over 2.5 billion rubles ($74 million) from EEFC Bank.
Moreover, according to the St. Petersburg Investigative Department, Gitelson and former Inkasbank CEO Tatyana Lebedeva are suspected of embezzling over 1.9 billion rubles ($56 million) that the Leningrad Region government's finance committee deposited with Inkasbank from May 2006 to May 2007. Lebedeva was given a suspended sentence and fined 300,000 rubles ($8,864).
Gitelson was arrested in Austria in April 2013. The Russian Prosecutor General's Office sent an extradition request, saying that Gitelson was sentenced to five years in prison in absentia. Austria extradited the former banker in December 2013.