Criminal liability for denial of Soviet and Nazi aggression upheld in Latvia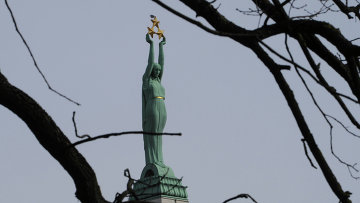 10:33 16/07/2014
VILNIUS, July 15 (RAPSI) – Latvia's Constitutional Court has dismissed a lawsuit filed by the parliamentary social democratic political alliance Harmony Center to reverse recent amendments that criminalized public denial, justification and glorification or trivialization of Soviet and Nazi aggression in Latvia, the online resource Delfi announced on Tuesday.
The assistant to Constitutional Court Chairman, Lina Kovalevska, said the suit did not comply with Article 18 of the Law on the Constitutional Court, meaning that the claim was not legally justified.
According to the Harmony Center's suit, the amendments do not conform to Latvia's constitutional standards or the European Convention on Human Rights.
Harmony Center Deputy Chairman Valery Agesins said he would comment on the court's decision after analyzing its arguments. He added that Harmony Center regarded the amendments as an infringement on the freedom of expression.
The amendments were made to the article of the Law on the Justification of Genocide, Crimes Against Humanity and Military Crimes and stipulate up to five years in prison, compulsory community labor and fines for denying Soviet or Nazi Germany crimes committed in Latvia.
The Harmony Center said freedom of expression was one of the most important values in a democratic society. "The European Court of Human Rights said several times that the limits on the freedom of expression are very broad and one should not stop at upholding the right to express ideas that could seem unacceptable to the social majority," the alliance said in a statement.