Malaysia wants full probe into plane crash over Ukraine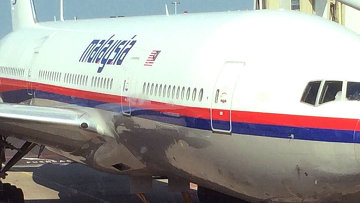 12:40 23/07/2014
MOSCOW, July 23 (RAPSI) – The Prime Minister of Malaysia, Datuk Seri Najib Razak, has instructed the prosecutor general to carry out a comprehensive investigation "so that those believed to be responsible for this crime against humanity through the shooting down of flight MH17 are immediately brought to justice," the Malaysian Insider writes.
The prime minister also said that punishment should only be handed down after a full probe into the crash.
He urged the International Civil Aviation Organization (ICAO) to issue a resolution strongly condemning the attack against flight MH17. He believes that Ukraine should shoulder responsibility for an investigation into the causes of the crash.
A Malaysia Airlines (MAS) Boeing 777 en route from Amsterdam to Kuala Lumpur crashed near the city of Donetsk in eastern Ukraine on July 17. All 298 people on board were killed. It is believed that the plane was downed by a surface-to-air missile.
Kiev has put the blame on the separatists, who argue that they do not have the technology to down a plane flying at an altitude of about 10 kilometers.
Russia says the crash should be investigated by an international group of experts and monitored by the ICAO.