Dutch authorities lead probe into Malaysian plane crash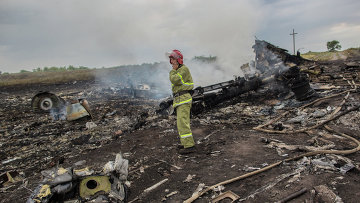 10:34 24/07/2014
MOSCOW, July 24 (RAPSI) – The Dutch Safety Board (DSB) has assumed formal responsibility for the investigation into the crash of Malaysia Airlines MH17 in eastern Ukraine, the DSB said in a statement.
The board also said the experts would investigate alleged tampering with data in the black boxes. The probe will be conducted by a multinational group of 24 experts from the Netherlands, Malaysia, Australia, the UK, Ukraine, Russia, Germany, the US and ICAO.
A Malaysia Airlines (MAS) Boeing 777 en route from Amsterdam to Kuala Lumpur crashed near the city of Donetsk in eastern Ukraine on July 17. All 298 people on board were killed. It is believed that the plane was downed by a surface-to-air missile.
Kiev has put the blame on the separatists, who argue that they do not have the technology to down a plane flying at an altitude of about 10 kilometers.