Seven more charges possible for Georgian ex-president Saakashvili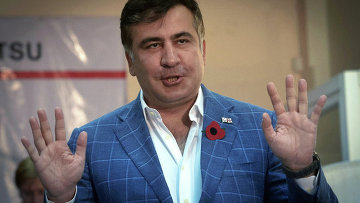 10:56 06/08/2014
MOSCOW, August 6 (RAPSI) - The Georgian Ministry of Justice is preparing to bring six or seven more charges against former president Mikheil Saakashvili, including corruption charges, Kommersant reports this Wednesday.
The Main Prosecutor General's Office last Tuesday distributed a statement, in which it clarified the details of new charges brought against Saakashvili, in absentia, who is currently abroad. The charges are related to an assault on Valery Gelashvili, a member of the Georgian parliament, in 2005.
"Six or seven more allegations are being looked into in less high-profile cases, including corruption," the newspaper wrote citing a source from the justice ministry.
Earlier, the Chief Prosecutor's Office of Georgia brought criminal charges against Saakashvili in a case that includes charges of dispersing an opposition rally in November 2007, the raid of Imedi television station offices, plus the seizure of billionaire Badri Patarkatsishvili's property. The case was opened on Article 333 Part 3 of the Criminal Code of Georgia on excessive use of power, use of violence or a weapon, and the breach of the dignity of a victim. On August 2, the Tbilisi City Court ordered the pre-trial detention of Saakashvili in absentia.
In its statement, the ministry says that on June 29, 2005, an article was published in the newspaper Resonance by Georgian parliament member Valery Gelashvili titled "Valery Gelashvili to give up his house for Saakashvili." In the article, Valery Gelashvili expressed his discontent with the then incumbent president, specifically because some of his property was taken without compensation. Gelashvili also made some offensive comments regarding Saakashvili's personal life.
As a demonstrative punishment for the publication and out of personal revenge, Mikheil Saakashvili allegedly ordered the then minister of defense Irakly Okruashvili to organize the murder of Valery Gelashvili. Okruashvili refused to carry out the order. Saakashvili then allegedly gave the same order to minister of interior Ivane Merabishvili. Investigators claim that the order was eventually carried out by director of the special police Irakly Kodua.