Convicted Moscow riots activist transferred to Southern Russia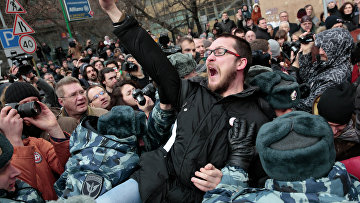 17:08 06/08/2014
MOSCOW, August 6 (RAPSI) - Yaroslav Belousov convicted of participation in Moscow's 2012 Bolotnaya riots has been transferred to the Stavropol Territory for serving his sentence, attorney Dmitry Agranovsky told RAPSI on Wednesday.
The term of Belousov's punishment will expire on September 9, 2014, Agranovsky added.
In late June, the defense of Belousov filed an application with Moscow's Tverskoy District Court to be released on parole. The court later deferred jurisdiction to the Preobrazhensky District Court. However, the application must be considered because it was filed within the legal period, Agranovsky said.
Earlier, the sentence of Belousov was mitigated by the Moscow City Court from 30 to 27 months.
Over 400 people were arrested and scores injured in the Bolotnaya Square protest that turned violent in May 2012. Dozens were later charged with inciting mass riots and using violence against law enforcement officers.
On February 24, Moscow's Zamoskvoretsky District Court sentenced eight activists to prison terms of three to four years in prison for participation in the riots.
Ten suspects were pardoned pursuant to a broad amnesty spearheaded by Russian President Vladimir Putin in commemoration of the 20th anniversary of the Russian constitution at the end of 2013 and the beginning of 2014.
Moreover, protester Maxim Luzyanin, who had pleaded guilty for his role in the riots, was sentenced to 4.5 years in prison in 2012. Another defendant Mikhail Kosenko in 2013 was sentenced to compulsory psychiatric treatment. In early June, the Chekhov City Court of the Moscow Region released Kosenko from a mental hospital to continue treatment in an outpatient clinic.