Ukraine prepares to sue Crimea over Scythian gold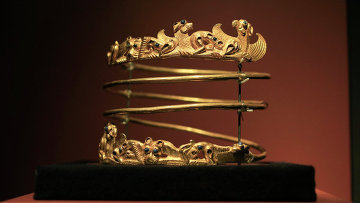 17:48 21/08/2014
MOSCOW, August 21 (RAPSI) - Ukraine claims ownership of the Scythian gold which is currently exhibited in the Netherlands and is preparing a lawsuit against its former republic of Crimea, RIA Novosti reported Thursday, citing Ukraine's Minister of Culture Yevhen Nyshchuk.
The Allard Pierson Museum in Amsterdam decided to keep the disputed collection of Scythian Gold items until the ownership dispute is resolved either amicably or in court.
"We agreed that the exhibition would be held in the Netherlands until the circumstances are clarified," Nyshchuk said, commenting on the museum's decision.
"We are going to sue the Crimean officials," Nyshchuk said. He did not specify, however, when the lawsuit might be filed and with which court. The Foreign Ministry of Ukraine is overseeing the preparations, according to Nyshchuk.
Russian Culture Ministry aide Kirill Rybak claimed the Dutch museum's unwillingness to return the collection of rare gold artifacts to Crimea unjustified.
The exhibition "The Crimea: Gold and Secrets of the Black Sea" opened in Germany in mid-2013 and moved to the Netherlands in early February. In March, Kiev demanded the gold be returned to Ukraine, not Crimea, since the latter had voted for independence and later joined Russia. Crimea, however, dismissed the demands as groundless.