Russian nationalist sentenced to life gets 18 extra years in prison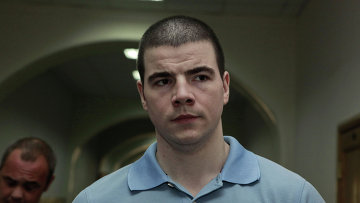 13:34 24/09/2014
MOSCOW, September 24 (RAPSI) – The Moscow City Court on Wednesday sentenced Nikita Tikhonov, a leader of the BORN extremist organization, who is already serving a life sentence for double homicide, to 18 years in prison, RAPSI reports from the courtroom.
Prosecutors earlier demanded extra 20-year jail term for Tikhonov who pleaded guilty to killing federal judge Eduard Chuvashov.
Chuvashov was shot dead in the stairwell of his Moscow apartment in 2010. During his career at the Moscow City Court, he reviewed over 20 high-profile criminal cases, some of which involved murder on ethnic grounds.
Tikhonov, a historian, journalist, nationalist and Slavophile, was sentenced to life in May 2011 by the the Moscow City Court after he had been found guilty of killing lawyer Stanislav Markelov and journalist Anastasia Baburova. Yevgenia Khasis, his accomplice, was given 18 years behind bars.
Investigation regarding Ilya Goryachev, another member of the BORN, is still in progress. Goryachev was placed on the international wanted list and in November 2013 extradited from Serbia. The Moscow City Court on Thursday extended the detention of Goryachev until November 8.
According to investigators, members of the Russian Nationalist Fighters Group (BORN) are, among others, responsible for the murders of anti-fascist movement leaders Fyodor Filatov, Ilya Dzhaparidze, Ivan Khutorskoi, and Thai boxing world champion Muslim Abdullayev.