Bashneft ex-head Ural Rakhimov withdraws claim over his prosecution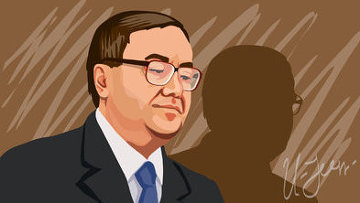 12:00 06/10/2014
MOSCOW, October 6 (RAPSI) – Ural Rakhimov, former head of midsized oil company Bashneft, has withdrawn a complaint over his criminal prosecution, RAPSI reports from Moscow's Basmanny District Court on Monday.
The lawyer said he withdrew the complaint because the courts grant very few such complaints. "There's no sense in filing this complaint," he said.
He said he had also filed a complaint with the Prosecutor General's Office, which has yet to respond. The attorney argued that the statute of limitations in the Bashneft case had expired.
The attorney also complained of procedural violations. Notably, he claimed that he had not been provided with documents which affirm the authority of the investigators.
Bashneft was privatized in 2009. It was controlled by the government of Russia's Bashkortostan region until 2003, when a major stake was sold to companies affiliated with Ural Rakhimov, son of the former head of Bashkortostan, Murtaza Rakhimov.
In 2009, Russian oil-to-telecoms conglomerate Sistema gained control of the company. In April 2014, investigators opened a criminal case linked to deals with Bashneft shares in 2002 to 2009.
Rakhimov and Vladimir Yevtushenkov were implicated in the sale of Bashneft stock in 2009. Rakhimov was charged in absentia with embezzlement during the transaction and the subsequent laundering of the funds. He has been put on the international wanted list.
Yevtushenkov, the board chairman and largest beneficiary of Sistema, has been charged with money laundering.
In late September, the Moscow Commercial Court seized Sistema-held Bashneft stock after a motion from the Prosecutor General's Office that required all Bashneft shares to be returned to the rightful owner because they were sold to Sistema in 2009 at a huge "discount" of $500 million.
Sistema directly owns almost 72% of voting shares of Bashneft, which produces about 350,000 barrels of oil a day, and an overall stake of 86.7%, including 12.6% via Sistema-Invest.
As of 3:20 pm on October 2, when President Putin said he would not interfere in the Bashneft case or issue any instructions regarding it, Bashneft stock value increased by 0.4%. The growth of Sistema's stock value on the Moscow Exchange has slowed from 3% to 0.7%.