Russian banker Andrei Borodin's arrest in absentia upheld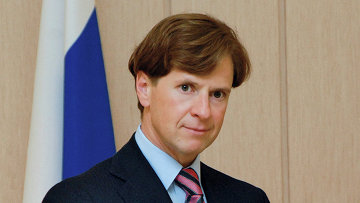 12:56 06/10/2014
MOSCOW, October 6 (RAPSI, Olga Siverkina) – The Moscow City Court on Monday upheld the decision to arrest fugitive Russian banker Andrei Borodin in absentia, RAPSI learnt in the court.
Borodin, the former president of the Bank of Moscow, and Dmitry Akulinin, former Bank of Moscow vice president, along with several other former executives of the bank have been charged with large-scale embezzlement and misappropriation of over 1 billion rubles ($25 million).
In another criminal case both bankers face money laundering charges. Damages in this case are estimated at tens of billions of rubles, and a Moscow court ordered their arrest in absentia earlier.
Moscow's Tverskoy District Court on August 28 issued arrest warrants for Borodin and Akulinin. According to the Interior Ministry, they are living in the UK. If convicted Borodin and Akulinin face long prison terms in Russia.
The financial problems of the Bank of Moscow, in particular a huge hole in its budget, were revealed after Borodin resigned from his post. In 2011, the Russian Central Bank, the Deposit Insurance Agency and VTB (which bought the Bank of Moscow) approved a financial rehabilitation scheme for the bank and gave it a 295 billion rubles ($7.4 billion) loan.
Investigators allege that Borodin used his position at the Bank of Moscow to issue loans to shell companies. In particular, he approved a loan of 12.76 billion rubles (over $320 million) to Premier Estate, although he knew that the money went to "third parties" and that Premier Estate could not repay the loan. Investigators believe that similar loans were also issued to many Cyprus-registered companies affiliated with Borodin and Akulinin.