McDonald's wins "burger case" against consumer rights agency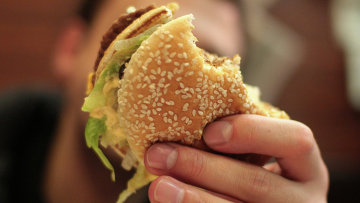 17:50 10/10/2014
MOSCOW, October 10 (RAPSI) - The Tverskoi District Court of Moscow ruled against the federal consumer agency in its ban on reopening two McDonald's outlets in Veliky Novgorod, a RAPSI correspondent reports from courtroom.
A claim against the fast food chain was filed by the Federal Agency for Consumer Rights Protection (Rospotrebnadzor). The agency stated that the products on sale at the restaurants violated the listing standards for the protein, fat and carbohydrate content of the product as well as on its energy value.
The ban included cheese burgers, royal cheese burgers, filet-o-fish, chicken burgers and berry ice cream and milkshakes.
"The lawsuit was filed due to the chain's violation of the legal requirements. An examination of samples revealed that the information on energy values and the composition of the products provided to consumers was not correct. This is consumer fraud," the plaintiff stated in court.
The consumer rights agency requested a court order to "stop the unlawful activity" and remove the violating products from the menu.
"The results of a second inspection showed that the products fully complied with the regulations. We do not understand what violation is being committed. The information that is not included in the energy value tables on the customer's trays are posted in the customer's dining area. You can see everything," the defendants responded.
Rospotrebnadzor filed the first suit after the inspection of two McDonald's restaurants in Veliky Novgorod last May. Earlier, the fast food chain had been repeatedly accused of misleading consumers regarding their products around the world.
In August, Rospotrebnadzor inspected over 100 McDonald's restaurants in Russia. Operations were suspended at about a dozen restaurants.
McDonald's, the world's largest hamburger fast food chain, has over 430 restaurants in 75 Russian regions. Deputy Prime Minister Olga Golodets said that Rospotrebnadzor had not planned to inspect all McDonald's restaurants operating in Russia.