Death of Total CEO: snowplow driver detained, four others arrested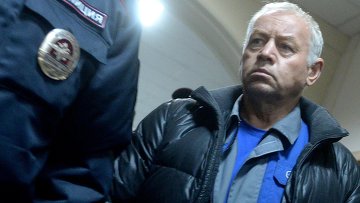 12:15 23/10/2014
MOSCOW, October 23 (RAPSI) – Moscow's Basmanny District Court has sent snowplow driver Vladimir Martynenko, implicated in the Total CEO's plane crash, in pre-trial detention until December 21, RIA Novosti reports from the courtroom on Thursday.
The Falcon business jet attempted to take off when it collided with the snowplow at Moscow's Vnukovo airport. The plane crashed shortly before midnight local time, or 8 pm GMT, on Monday killing Christophe de Margerie and three crew members.
Preliminary reports indicated that the driver of the snowplow was intoxicated, which was later contested by the driver's attorney Alexander Karabanov.
"The allegations that he was drunk at the time of the accident are not true... We believe he is being made a scapegoat by officials," Karabanov told RAPSI.
Investigative Committee spokesman Vladimir Markin told journalists earlier that there are four versions of the accident, including air traffic control error, a mistake made by a drunken snowplow driver, bad weather conditions, and pilot error.
Investigation into the plane crash was launched under an article of the Criminal Code on the violation of safety rules during the movement of aircraft that resulted in the death of more than two persons. Those found guilty face up to seven years in prison.
Four people were arrested so far, including flight director, intern air controller, controller who was at the tower during the crash, and lead engineer of the custodian service.
In the meantime, general director of the airport Andrey Diakov and his deputy Sergey Solntsev resigned over the incident.