Acquitted crab case defendant denied lawsuit against Russian Finance Ministry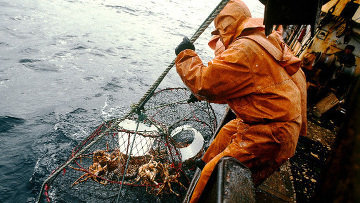 14:14 24/10/2014
MOSCOW, October 24 (RAPSI) - The Tverskoy District Court in Moscow refused to hear a lawsuit filed by US citizen Arkadi Gontmakher, who was acquitted earlier in a Kamchatka crab smuggling case. The suit was filed against the Russian Finance Ministry for compensation of over 200 million rubles ($4.7 mln) in damages, the court told RAPSI on Friday.
Gontmakher's representative said his client's company incurred losses due to his inability to manage the operation while under arrest. A representative of the Finance Ministry responded that the businessman's claim was groundless because no evidence of the relationship between the company's losses and the prosecution of Gontmakher was presented. The court will issue a statement regarding its decision to not hear the case.
The investigation found that the international organized crime group that operated in the Far East in 2006 and 2007 and was involved in crab smuggling caused Russia damages of approximately 11.5 billion rubles ($274 mln). The prosecution claimed that in 2007, the criminal group poached over 9 million kg of crab worth about $58 million.
The group, according to the prosecution, vastly exceeded the legal quotas on king crab harvesting from Russia's continental shelf and the exclusive economic zone in the Far East's waters. The crab products were delivered to Busan, South Korea, where they were provided with documents and imported to the US as "legal." The funds recovered from the sale were allegedly spent on further crime ring activity.