About $240,000 sought from Khodorkovsky in defamation suit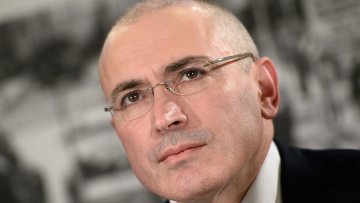 17:28 27/10/2014
MOSCOW, October 27 (RAPSI, Diana Gutsul) – The Liberal Democratic Party (LDPR) has filed a defamation suit seeking 10 million rubles (about $240,000) in damages from former Yukos owner Mikhail Khodorkovsky, RAPSI learned in Moscow's Meshchansky District Court on Monday.
Vladimir Zhirinovsky's party has asked the court for in moral damages for the defamatory mention of the LDPR in a book, Prison and Freedom, which Khodorkovsky wrote in cooperation with journalist Natalia Gevorkyan.
The plaintiff said the defendant shamelessly accused the LDPR of accepting money for voting as required.
The lawsuit says the LDPR respects the law and does not accept funds from questionable sources. The party has asked the court to declare information from Khodorkovsky's book as defamatory, to order him to retract this statement, and to collect 10 million rubles ($239,180) in moral damages from Khodorkovsky.
The court held a pretrial hearing of the case on October 27. The trial will begin on November 20.
In late December 2013, President Vladimir Putin signed a decree pardoning Khodorkovsky. Hours later, the former oil tycoon was released from jail and flown to Germany. His prison sentence - 10 years and 10 months – would have been served in full in August 2014.