European Court confirms sanctions against Syria's Central Bank governor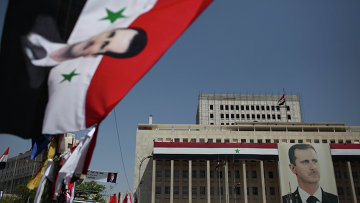 13:59 05/11/2014
MOSCOW, November 5 (RAPSI, Alexander Karpov) – The General Court of The European Union confirmed that restrictive measures against Adib Mayaleh, governer of the Central Bank of Syria, are valid, says the court's press release made public on Wednesday, says the court's press release made public on Wednesday.
Adib Mayaleh sought his name to be stricken from the EU sanction list, and filed two actions with the General Court of European Union
The press release further expands that at the time of his naturalization as a French citizen, his name was gallicised to André Maynard. In 2013, the EU Council added Mayaleh's name to the list of people targeted by the restrictive measures adopted against Syria. As a result, Mayaleh had his funds and economic resources frozen and was forbidden entry into the territory of the Member States of the EU.
The court ruled that the Council was entitled to place limitations on Mr Mayaleh's right to freedom of movement within the EU (excluding French territory, pertaining to the fact that he owns dual citizenship, and EU law does not require the Member States to forbid their own nationals entry into their territory, even where those nationals are forbidden entry into, or transit through, the territory of the EU as a whole)
The ruling states that Adib Mayaleh is responsible for providing economic and financial support to the Syrian regime through his functions as the Governor of the Central Bank of Syria.
The initial decision to impose sanctions against Syrian companies and a number of high-ranking officials was adopted by EU on May 31, 2013. The sanctions include a number of export and import bans, including an oil embargo, as well as restrictions on investments, financial activity and the transport sector.
In late June 2014, the European Union announced that it had extended economic sanctions against Syria through June 1, 2015.
An armed conflict broke out in Syria in March 2011 and has since claimed more than 130,000 lives, according to UN estimates. Government troops are fighting various armed groups, including foreign mercenaries.