Kalashnikov heirs sue toy gun importers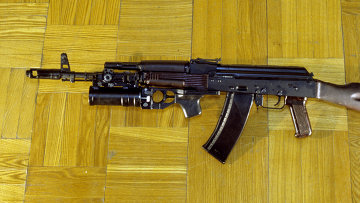 13:47 12/11/2014
MOSCOW, Novemebr 12 (RAPSI) – M.T. Kalashinkov, a company established by the fabled engineer and his daughter, are suing four importers of Chinese toy AK-47s for copyright infringement, RAPSI reports on Wednesday.
The applicant demands a compensation of 300,001 rubles ($6,500) each from three LLCs, and 100,001 rubles ($2,176) from an individual businessman.
The court records indicate that regional Customs Service motioned the court to open cases against the same companies for importing goods without consent given by the owner of the trademark. The court ruling said that the AK-47 marking on the toys fully copies the registered trademark. The companies were fined for 30,000 rubles ($650) each.
According to financial analysts, M.T Kalashnikov was established in 1999, has an authorized capital of $182 and cites "photography" as main venue.