Roofers accused of placing Ukrainian flag on Moscow skyscraper to stay under house arrest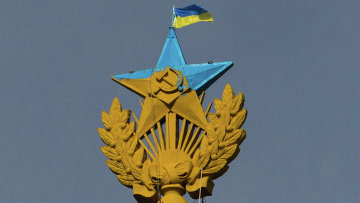 14:09 12/11/2014
MOSCOW, November 12 (RAPSI) – The Moscow City Court has upheld the house arrest of four young people charged with painting the star and hoisting a Ukrainian flag on a high-rise building in Moscow, the court told RAPSI on Wednesday.
The defendants will stay under house arrest until November 20.
On August 20, a Ukrainian flag was spotted on the spire of the skyscraper on Kotelnicheskaya Embankment in central Moscow. The Soviet star on the spire was painted blue and yellow, the national colors of Ukraine.
Four young people with special climbing equipment were detained in the aftermath of the incident, charged with hooliganism and placed on house arrest. The four suspects said they were jumping from the high-rise building with parachutes when someone else painted the star and hoisted a Ukrainian flag on its spire.
They face up to seven years in prison if convicted.
The fifth suspect, Vladimir Podrezov from St. Petersburg, was arrested a few days later. Unlike the other four suspects, the court ruled to detain him. His attorney Vadim Lisitsyn said that Podrezov is not guilty of the crime with which he was charged.
The sixth suspect in the star-painting case, Kirill Ishutin, was arrested on drug possession charges. He faces up to 10 years in prison.