Moscow court to question witnesses in Yves Rocher embezzlement case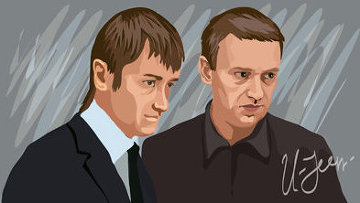 14:42 13/11/2014
MOSCOW, November 13 (RAPSI) - Moscow's Zamoskvoretsky District Court on November 14 will continue questioning witnesses in the Yves Rocher embezzlement case, RAPSI reports from the courtroom on Thursday.
On Thursday, prosecutors read out about 30 volumes of the case.
Earlier, Christian Melnik, Financial Director of the cosmetics company Yves Rocher Vostok, said in court that the company has no claims against opposition leader Alexei Navalny and his brother Oleg.
Alexei Navalny is a Russian political and public figure, leader of the Party of Progress. He ran for Moscow mayor and is the author of one of the most popular political blogs that was banned for promoting unauthorized public protests.
Navalny and his brother Oleg stand accused in a fraud case involving cosmetics company Yves Rocher Vostok. Investigators allege that the Navalny brothers embezzled up to 26 million rubles (about $561,000) from the cosmetics company, as well as close to 4 million rubles ($86,300) from the Multidisciplinary Processing Company by way of a fraud scheme. The brothers were further charged with having laundered 21 million rubles ($453,200).
Alexei Navalny was given a suspended sentence of five years for the embezzlement of funds from Kirovles Company.