Court rules that publicizing German ex-chancellor Helmut Kohl quotes is illegal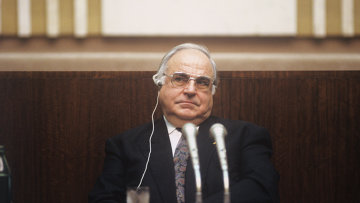 16:24 13/11/2014
MOSCOW, November 13 (RAPSI) - Thursday the Land Court of Cologne ruled against journalist Heribert Schwan in Helmut Kohl's lawsuit against Schwan, who was Kohl's biographer, RIA Novosti reports on Thursday.
The court ruled that Schwan had no right to further publicize most of Kohl's statements including those in his book Vermächtnis: Die Kohl-Protokolle (The Will: Kohl's Protocols) because prior to working on Kohl's biography Schwan undertook an obligation not to disclose the information about the co-authored work.
In the book, Heribert Schwan publicizes his personal conversations with ex-chancellor of Germany Helmut Kohl.
The minutes of the meetings were published against Kohl's will. About three years after the chancellor left his post, in 2001 and in 2002, Kohl gave a series of interviews to journalist and historian Schwan. The interviews were to be used for Kohl's memoirs. Schwan recorded a total of 630 hours.
In the talks with his then confident, Kohl allowed himself honest, unflattering comments about many politicians, including Chancellor Angela Merkel.
After the first three volumes of Kohl's memoirs were published, Kohl and Schwan had an argument and the book series was not completed. Instead, Schwan decided to write another book and include the recorded interviews.