Ukrainian refugees to file hundreds of claims of discrimination - report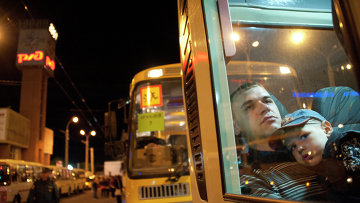 10:34 14/11/2014
MOSCOW, November 14 (RAPSI) – Ukrainian refugees who have lost their homes and family members are to file about 1,000 applications with the European Court of Human Rights, Kommersant daily reported on Friday. Seven applications have been filed so far.
The court has registered the first such claim seeking $200,000 in compensation.
The process has been initiated by the Union of Ukraine Refugees, which was created by Oleg Tsaryov, the speaker of the Novorossiya parliament. The union's lawyer, Yulia Nikitina, told Kommersant that seven applications have been forwarded to the European court.
She said the court had accepted the application filed by Donetsk resident Antonina Maslova. The court notified them that it received Maslova's application and assigned it a number on October 1.
Maslova writes in her application that her apartment was destroyed in an artillery raid by the Ukrainian army on August 9, which forced her to leave because her life and the lives of her family members were put in danger. Maslova requests $200,000 compensation for material and moral damage from Kiev.
Six other applicants filed similar claims. Nikitina said the Union of Ukraine Refugees would soon send another 50 applications from Ukrainian citizens to the Strasbourg court.
In April, the Kiev government launched a military operation against the southeastern regions that refused to accept it authority. The number of Ukrainian refugees in Russia increased dramatically in June, as hostilities between Kiev and the pro-independence fighters gathered momentum.
According to the latest data of the Russian authorities, over 730,000 people have fled to Russia since the beginning of the armed conflict in Ukraine. Over 48,000 of them have applied for asylum.