Appeal in Pistorius case to be heard February 15 at the earliest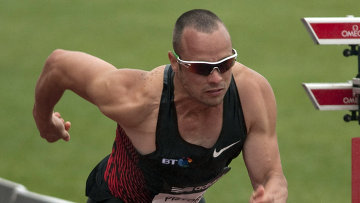 12:52 10/12/2014
MOSCOW, December 10 (RAPSI) - The prosecutor's appeal in the case of the South African amputee runner Oscar Pistorius will be heard in a closed hearing of the South African Supreme Court Appeals Committee no sooner than February 15, the court announced on its website.
Wednesday, the court accepted the prosecutor's appeal against the not-guilty verdict for Pistorius who was charged with the premeditated murder of his girlfriend Reeva Steenkamp. According to the schedule on its official website, the South African Supreme Court Appeals Committee in Bloemfontein, only holds hearings during specific periods: between February 15 and March 31, May 1 to 31, August 15 to September 30 and November 1 to 30. The parties and witnesses are not present at the hearings.
Pistorius was found not guilty of Steenkamp's premeditated murder but he was convicted of culpable homicide and sentenced to five years in prison. On November 4, the prosecutor announced that it appealed the verdict and the sentence.
The tragedy at Pistorius' home took place on February 14, 2013. The athlete killed his girlfriend Reeva Steenkamp after he mistook her for an intruder.
He fired several shots at a locked bathroom door. The young woman sustained lethal injuries in the head, arms and chest.