Russian Red Cross filed defamation suit against 18 US, Ukrainian media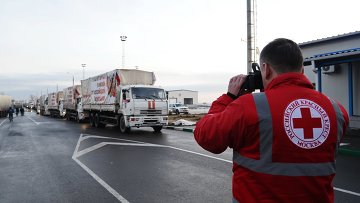 12:47 14/01/2015
MOSCOW, January 14 (RAPSI) – The Moscow branch of the Russian Red Cross has filed defamation suit with a Moscow court against 18 Ukrainian and US media outlets for defamation seeking 170 million rubles (about $2.6 million) in damages, chief of the Moscow branch of the Russian Red Cross panel Igor Trunov told RAPSI on Wednesday.
Trunov slammed the US and Ukrainian mass media coverage of the situation in Ukraine's Donbass region. Notably, the information about humanitarian aid provided by the Red Cross to residents of Luhask was distorted, according to Trunov.
"An information war is waged against Russia, and we turned to a court," Trunov said.
On Friday, Russian Foreign Ministry issued a scalding reaction against Ukrainian media quoting the Moscow Red Cross head Trunov, who allegedly referred to the humanitarian convoys sent to war-torn Ukrainian region of Donbas as "invasive", and the help consisting of "dual-use goods", implying that they could be used by combatants.
The Moscow Red Cross head added that he filed a motion with the Investigative Committee to initiate criminal proceedings on the grounds of enticing extremism, libel (a criminal offense under Russian law), and insulting a government official.
In addition, motions were filed to the Prosecutor General's Office and communications regulator, to block access to the websites of publications mentioned in the lawsuit. The full list of the accused US and Ukrainian media outlets was not yet disclosed.