Russia's Constitutional Court rules against homeowners over mortgage dispute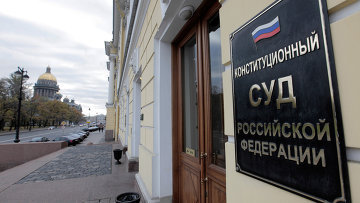 14:24 19/01/2015
MOSCOW, January 19 (RAPSI) - Russia's Constitutional Court ruled that a federal law ordering a debtor to hand over property to a bank with which he had a mortgage is not in breach of the Constitution, RIA Novosti reported on Monday, citing court records.
A suit was filed with the court by Russian national Anton Khisamutdinov. He alleges that the law is in contradiction to Article 8 of the European Convention on Human Rights, which states that everyone has the "right to respect for private and family life."
"After studying the case materials, Russia's Constitutional Court did not find any legal grounds for hearing the suit. The Constitution guarantees freedom of economic activity, including the freedom to make contracts, and the right to own property, use and dispose of the property whether alone and jointly with other parties. Therefore, there is an opportunity to secure one's obligations in civil transactions by one's property, including real estate," the court court said in the ruling.
The law is not in contradiction to the Russian Civil Code, the court ruled.