Russian national accused of bribery to stand trial in US in March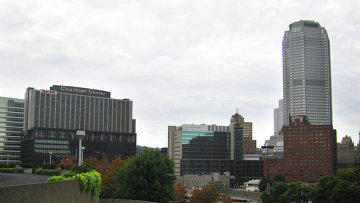 16:41 23/01/2015
MOSCOW, January 23 (RAPSI, Alexander Karpov) – Dual citizen of Russia and Germany, Dmitry Harder, accused of bribery in the U.S. is set to face trial in Philadelphia on March 5, according to the records of Eastern District Court of Pennsylvania obtained by RAPSI on Friday.
Harder, 42, was charged by the US with conspiracy, money laundering and bribery.
Harder was the president and owner of Pennsylvanian-based Chestnut Consulting Group, which provided consulting services to clients seeking financing from development banks worldwide.
The indictment states that Harder engaged in a $3,5 million bribery scheme to influence an official of the European Bank for Reconstruction and Development (EBRD), to both obtain financing for his clients and direct business opportunities to Chestnut Group. The conspiracy went on from 2007 to 2009, and provided more than $100 million worth of financing for Russian and British oil and gas companies.
The payments were transferred to an EBRD's official relative as payment for supposed consulting services, and later withdrawn upon the closing of financing bids for Chestnut's clients.
Harder and his company received multimillion kickbacks, or 'success fees', for the approval of sought financing by his clients.
If harder is convicted on all counts, he faces up to 190 years in prison and a $1,75 million fine.
Bloomberg reported earlier that Harder was released on a $100,000 bail, under the condition of turning in his German passport, and travel restriction securing him in Pennsylvania.
This is not the first bribery case connected to EBRD. In 2014, The Simonovsky District Court of Moscow handed down a five-year suspended sentence with a five-year probation period to Yelena Kotova, former top representative from Russia to the EBRD. Kotova was convicted of soliciting a $1.425 million from representatives of a Canadian oil company in exchange for a possible $95 million loan from the bank.