Ukraine puts Russian actor Porechenkov on wanted list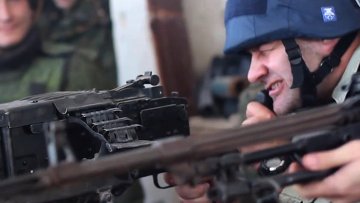 17:34 27/01/2015
KIEV, January 27 (RAPSI) – Ukraine has put Russian actor Mikhail Porechenkov on wanted list after his visit to the self-proclaimed Donetsk People's Republic where he was caught on video firing a machine gun, Ukraine's Interior Ministry said in an online statement released on Tuesday.
Porechenkov was in the self-proclaimed Donetsk People's Republic for the opening night of the film Poddubny, in which he played Ivan Poddubny (1871 - 1949), a famous Russian and Soviet professional wrestler and athlete. The media wrote that Porechenkov visited the self-defense forces' positions at Donetsk airport and fired shots from a large-caliber machinegun towards the alleged positions of Ukrainian regular army.
Ukrainian Interior Ministry and Security Service opened a criminal case against Porechenkov.
Ukrainian authorities have also banned entering the country for 14 celebrities from Russia, including Porechenkov. Almost 70 films with the participation of Porechenkov were also prohibited in Ukraine.
A violent internal conflict has been raging in the Donetsk and Luhansk regions in southeastern Ukraine since mid-April, when Kiev began its military operation against the federalization supporters.