Russian Supreme Court upholds ban on hijabs and miniskirts at Mordovian schools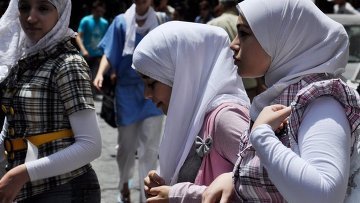 15:00 11/02/2015
MOSCOW, February 11 (RAPSI) - On Wednesday, the Supreme Court of Russia upheld the ban on hijabs at Mordovian schools, a RAPSI correspondent reports from the courtroom.
Therefore, an appeal challenging the earlier court ruling was dismissed.
The ban also concerned some other religious attributes as well as mini skirts, jeans, low neck tops and dresses, piercing and bright hair colors.
In October 2014, the Supreme Court of Mordovia banned school girls in the region from wearing hijabs during classes after a girl swallowed a pin holding the headgear during a break. Earlier, the decision to ban hijabs was taken by the regional government but the Muslim community declared it unlawful and appealed to court.
Young girls wearing scarves have been attacked and expelled from school meetings, according to one of the plaintiffs. Both the kids and their parents have been subject to disciplinary action, and they were not even wearing hijabs but scarves.
On her part, a representative of the Mordovian government reminded that Russia is a secular state and the decision to ban scarves is aimed at protecting children.
The wearing of hijabs and other religious attributes at secular Russian schools has repeatedly been a subject of controversy in society. The Stavropol officials were first to prohibit hijabs in schools and they were supported by the Supreme Court of Russia. Minister of Education Dmitry Livanov believes that children wearing hijabs should study at religions schools. Representatives of the Mordovian Muslim community claim that the ban violates their Constitutional right to the freedom of faith. The claimants cited cases of discrimination against their children at Saransk schools.