Wife of Navalny's associate arrested on fraud charges in absentia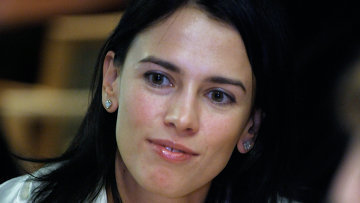 16:03 16/02/2015
MOSCOW, February 16 (RAPSI) - Moscow's Basmanny District Court issued on Monday an arrest warrant for Aleksandrina Markvo, the common-law wife of Vladimir Ashurkov, a close associate of opposition activist Alexei Navalny, RAPSI reports from the courtroom.
Last December, the Russian Investigative Committee opened a criminal case against Markvo and her driver, Andrei Mylnkikov, regarding alleged fraud when fulfilling state contracts on the management of creative contests and events to promote reading and literature in Moscow parks.
The investigation found that Markvo was the owner of Buro-17 and managed the agency. In 2010-2014, the company signed contracts with the Federal Agency for Media and Mass Communications and the Moscow Department of Mass Media and Advertising for 64 million rubles ($1 million) to organize public readings in Moscow parks and a book preview contest.
The Investigative Committee claims that for one of the events in 2012, Markvo used Moscow park facilities free of charge while reporting rental expenses of 2 million rubles ($32,000) that the Moscow Mayor's Office covered. It is believed that Markvo embezzled the money.
Late last week, the Investigative Committee put Markvo on the international wanted list. Her whereabouts are currently unknown, but it is assumed that she left the country.
Markvo's partner, Vladimir Ashurkov, is also involved in a criminal case regarding opposition leader Navalny's activity.
The investigation found that Ashurkov as well as a Zyuzino Moscow district legislature member Konstantin Yankauskas and businessmen Nikolai Lyaskin, who transferred one million rubles ($15,400) each to Navalny's bank account, posted an appeal online urging the public to make donations to their "electronic wallets." As a result, they allegedly embezzled 10 million rubles (about $154,000), the Investigative Committee assumes.