Russian climber linked to Ukrainian flag stunt gets 22-month sentence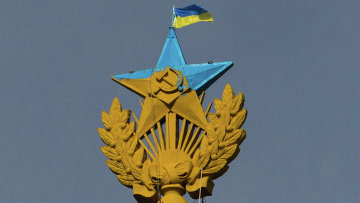 15:44 17/02/2015
MOSCOW, February 17 (RAPSI) – Kirill Ishutin, one of the suspects implicated in a criminal case over hoisting a Ukrainian flag on a Moscow skyscraper, has been convicted on drug possession charges, sentenced to 22 months in prison, spokesperson for Moscow's Tverskoy District Court Yevgeniya Potapkina told RAPSI on Tuesday.
On August 20, a Ukrainian flag was spotted on the spire of the skyscraper on Kotelnicheskaya Embankment in downtown Moscow. The Soviet star on the spire was painted blue and yellow, the national colors of Ukraine.
Four young people, including Anna Lepeshkina, Alexander Pogrebov, Alexei Shirokozhukh and Yevgeniya Korotkova, with special climbing equipment were detained in the aftermath of the incident, charged with hooliganism and placed under house arrest. The four suspects said they were jumping from the building with parachutes when someone else painted the star and hoisted a Ukrainian flag on its spire. They face up to seven years in prison if convicted.
The fifth suspect, Vladimir Podrezov from St. Petersburg, was arrested a few days later. Unlike the other four suspects, the court ruled to detain him.
Kirill Ishutin was arrested on drug possession charges. He faced up to 10 years in prison.