Ukrainian ex-premier arrested in absentia for abuse of office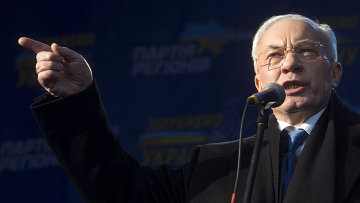 13:53 20/02/2015
MOSCOW, February 20 (RAPSI) – A court in Ukraine has issued an arrest warrant in absentia for ex-Prime Minister Nikolai Azarov for illegally suspending the inspection of the state-owned company "Antonov", says a statement posted on Ukraine's Main Prosecutor's Office's website on Friday.
Azarov, who is living outside Ukraine, has been charged with abuse of office that led to grave consequences.
Prime Minister Azarov allegedly stopped the inspection of the aircraft manufacturing company "Antonov" by an interdepartmental government groups in the fall of 2012, according to prosecutors.
The group allegedly exposed major violations of the budget law at the company. In particular, revenues from the commercial use of Ruslan planes were kept on the accounts of two foreign companies and the account of an "Antonov" executive, who used these funds at their discretion.
Ukrainian prosecutors assessed the damage from the suspect's actions at over 37 million hryvnias ($1.3 million).
A Ukrainian court ruled in favor of the prosecutor's office, which requested that Azarov be arrested. The statement also says that the Ukrainian government has proposed that the equity rights of the non-resident companies involved in the case be turned over to the government for management.
"Antonov" manufacturing company belongs to the Ukrainian government and specializes on the aircraft production.