Russia's Human Rights Council urges Savchenko's release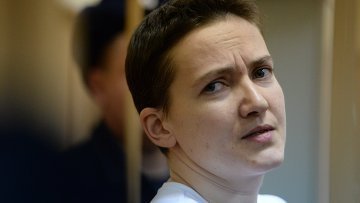 16:37 27/02/2015
MOSCOW, February 27 (RAPSI) – The Presidential Council for Civil Society and Human Rights has sent an appeal to Investigative Committee Head Alexander Bastrykin to review the detention terms for Ukrainian pilot Nadezhda Savchenko, who went on a hunger strike two months ago, according to information posted on the council's website.
The appeal was prepared at the initiative of council member Yelena Masyuk who has visited Savchenko many times. Following a visit on Thursday, Masyuk released a statement saying, that Savchenko's health has seriously deteriorated and that she could die within days.
After more than two months on a hunger strike, Savchenko is suffering from kidney and gallbladder problems.
Council head Mikhail Fedotov is urging Bastrykin to rely on his sense of humanity and compassion when considering Savchenko's case, to release her as soon as possible and to forward her case to court.
The letter was posted on the official website of the Human Rights Council.
The press service of the Federal Penal Service announced on Friday that Savchenko is in "stable condition" and that there are no grounds to support the human rights advocates' warnings about a possible tragic outcome to her hunger strike.
Nadezhda Savchenko, who went on a hunger strike on December 13 last year and only drinks warm water, says she is determined to starve to death in pretrial detention if the Russian authorities do not release her.
She was arrested in Russia last summer on charges of complicity in the murder of two Russian TV journalists during hostilities in Donbas.
TV correspondent Igor Kornelyuk and sound engineer Anton Voloshin were killed on June 17 in a mortar attack. Savchenko has denied the allegations and claims that she was kidnapped in Ukraine and forcibly transported to Russia.
She was elected a member of Ukraine's parliament from the Batkivshchyna Party in October 2014 and approved as a member of the Ukraine mission to PACE in late January 2015.