Charges brought against new defendant in Bolotnaya Square riot case - lawyer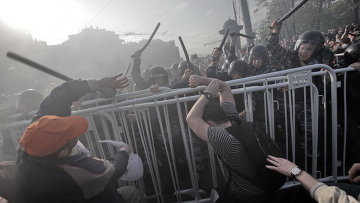 13:42 02/03/2015
MOSCOW, March 2 (RAPSI) - Investigators have brought charges against Ivan Nepomnyashchikh, a new defendant in the Bolotnaya Square riot case, his lawyer Dmitry Dinze told RAPSI.
"Last week, the day after my client was placed under house arrest, he was charged with participating in mass riots and using force against a public officer," the lawyer said.
The defense lawyer stressed that his client refused to testify.
The new defendant in the high-profile Bolotnaya Square riot case was called to account last week. The investigation found that Nepomnyashchikh, a design engineer working in the aerospace industry, was an active participant in the clashes with the police and used his fists and an umbrella. The defendant is currently under house arrest.
The march on Yakimanka Street and the rally on Bolotnaya Square in May 2012, both authorized by the officials, resulted in mass riots and clashes with the police. Dozens of people were injured, over 400 protesters were detained.
The riot organizers, Sergei Udaltsov and Leonid Razvozzhayev, were sentenced to 4.5 years in prison. Other participants received prison terms from suspended sentences to four years. Several defendants were pardoned; one is undergoing compulsory mental treatment.