Criminals behind the attack on Russian MP sentenced to long prison terms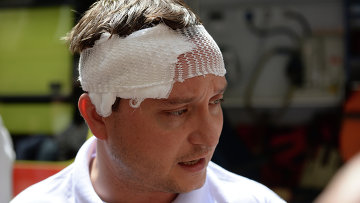 15:20 10/03/2015
MOSCOW, March 10 (RAPSI, Alexei Afonsky) – Moscow's Dorogomilovsky District Court has sentenced four men convicted of beating and extorting money and property from Liberal Democratic Party lawmaker Roman Khudyakov to prison terms ranging from eight to nine and a half years, RAPSI reported on Tuesday.
Two of the defendants – Zakaria Gadzhiyev and Artur Minbulatov – were sentenced to nine and a half years and eight years and eight months in prison, respectively. The other two, Shamil Gadzhiyev and Alexander Atapin, – were sentenced to eight years and eight and a half years, respectively.
According to investigators, in July 2014 Gadzhiyev and Minbulatov forced Khudyakov to pull over and beat him. The MP was hospitalized with a brain concussion and multiple bruises. The next day, the four suspects were arrested near Volgograd in a Lexus that was headed for Dagestan. They were flown to Moscow soon afterward.