Moscow court rules Bank of Scotland employee to be held in custody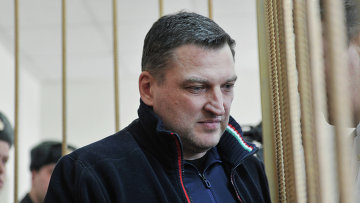 17:56 09/04/2015
MOSCOW, April 9 (RAPSI, Alexei Afonsky) - Moscow's Simonovsky District Court ordered that Vsevolod Glukhovtsev, a vice president at the Royal Bank of Scotland's Russian subsidiary, who stands accused of defrauding investors of more than 300 million rubles (about $5.3 million) be detained until September 16, Glukhovtsev's lawyer, Sergei Kardashev, told RAPSI on Thursday.
Glukhovtsev was arrested in April 2013 on charges of large-scale fraud and placed under house arrest that was repeatedly extended.
Glukhovtsev failed to attend a hearing in late March, saying that he was in poor health and had a medical examination.
His house arrest was extended in absentia.
Glukhovtsev appeared in court in person on Thursday to ask that he remain under house arrest.
The judge ruled that Glukhovtsev broke the conditions of his house arrest because he had to notify the Federal Penitentiary Service of medical examination.
According to the Interior Ministry, Glukhovtsev allegedly told investors that he was an influential banker and casino owner while using funds deposited on his accounts in Montenegro for personal purposes.
He was arrested in April 2013 on charges of large-scale fraud. The court first ruled to hold the banker, but later he was placed under house arrest.
A preliminary investigation revealed that Glukhovtsev had acquired expensive property in Moscow and abroad, luxury cars, art and jewelry, according to the police. A search of his home and office also uncovered guns and munitions for which he failed to provide a license.
Additionally, in early 2006, Glukhovtsev received 600,000 euros and $450,000 from a Russian citizen, which he was to spend on purchasing a house and building a medical center in Montenegro. However, he failed to fulfill the commitment and spent the money at his own discretion.