Ex-head of Russian penitentiary service to remain in detention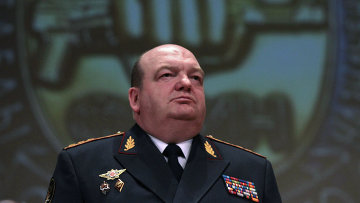 12:47 14/04/2015
MOSCOW, April 14 (RAPSI) – The Moscow City Court on Tuesday upheld the detention of former head of Russia's Federal Penitentiary Service (FSIN) Alexander Reimer who stands accused of embezzling 3 billion rubles ($52 million) allocated for the purchase of electronic monitoring bracelets, RAPSI reports from the courtroom.
The defense asked to release Reimer from jail. A prosecutor in turn has not found grounds for variation of preventive measure. Reimer will remain in detention until May 31.
Charges have been brought against him, his former deputy Nikolai Krivolapov, director of FSIN's Information and Technical Support Center Viktor Opredelyonov, and the director of a private company Nikolai Martynov.
Investigators claim that Reimer and Krivolapov personally approved the purchase of the electronic bracelets at vastly inflated prices.
The probe into the case was opened after two FSIN employees were detained on suspicion of extorting $2.6 million from a businessman in connection with the purchase of the bracelets.
Reimer, Martynov and Opredelyonov were put in jail. Krivolapov was placed under house arrest.
Investigative Committee spokesman Vladimir Markin earlier said investigators are working to establish other possible suspects in this crime.
Alexander Reimer, 57, was chief of the Interior Ministry Department in the Samara Region from April 2006 to 2009. In August 2009, he was appointed FSIN director and in 2010 promoted to the rank of Colonel-General of the Interior. He was dismissed from FSIN on June 26, 2012.