Russian investigators say no reason to doubt North Caucasus warlord's guilt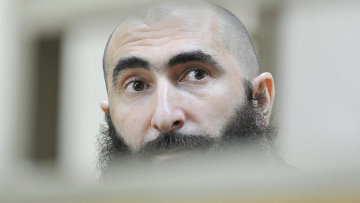 16:35 12/05/2015
MOSCOW, May 12 (RAPSI) – There is sufficient evidence justifying the suspicion that Ali Taziyev, also known as "Magas," who was sentenced to life is linked to a number of other crimes, including attacks on police officers, RIA Novosti reported on Tuesday, citing investigators.
The trial of Taziyev, who has been accused of attacking law-enforcement officials and other crimes, began in Rostov-in-Don in southern Russia on Tuesday.
"Investigators have accumulated sufficient material evidence and forwarded [Taziyev's] case to the court," committee representatives said.
In late 2013, a military tribunal handed down a life sentence to Taziyev.
Taziyev (Magas) was accused of 24 terrorist attacks in a case involving over 600 victims and over 400 witnesses. He was charged under 15 different criminal code articles, such as organizing illegal armed groups, planning an armed riot, illegal arms dealing, weapon manufacturing, homicide, terrorism, and attacking a law enforcement official.
The court found Taziyev guilty of several crimes, including detonating a homemade bomb at a bus terminal in Nevinnomyssk, Stavropol Territory, in southern Russia, on December 9, 2007, attacking Ingush President Yunus-Bek Yevkurov, and setting off a homemade bomb at a police station in Nazran, Ingushetia, on August 17, 2009. In the latter attack, 21 people died and 290 were injured.
In February 2014, Russia's Supreme Court upheld a life sentence for Taziyev.
According to the Investigative Committee, the criminal group of which Taziyev was a member has killed 78 people. Taziyev was placed on the wanted list in 2004 and arrested in an antiterrorist operation in Ingushetia nine years later, in May 2013.