Father of Moscow school shooter to stand trial for alleged negligent storage of firearms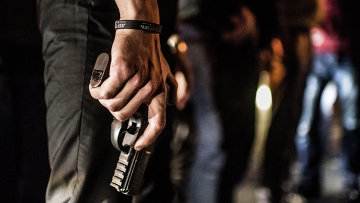 11:42 15/05/2015
MOSCOW, May 15 (RAPSI) – The father of a Moscow teenager who was ordered to undergo psychiatric treatment for killing two in 2014 shooting spree to stand trial on charges of negligent storage of firearms, Izvestia newspaper reported on Friday.
On February 3, 2014, Sergey Gordeev, 15, made his way into his school with a rifle by threatening a guard who immediately called the police. Gordeev barged into a classroom where a geography teacher was giving a lesson and fatally shot him, holding about 20 students hostage, according to investigators.
He also shot a police officer who arrived on the scene and wounded another one, according to investigators.
Investigators reported that he fired no less than 11 shots, wielding two carbines that were legally registered to his father. Gordeev was detained and officially charged with murder, intent to commit murder, and taking of hostages.
Gordeev pleaded partially guilty. A psychiatric evaluation has found him insane.
In March 2015, Moscow's Butyrsky District Court ordered Sergey Gordeev to undergo psychiatric treatment.
Initially, the police forwarded the case opened against Gordeev's father to the Butyrsky District Court, but such minor offenses as negligent storage of firearms are heard at a magistrate court.
Investigators accuse Gordeev's father, a retired Interior Ministry official, of habitual negligence with regard to his hunting carbines, because his son knew that he kept the key to the gun safe in a chest of drawers. The teenager opened the safe, took the carbines and went on a shooting spree at his school.
After the massacre, concerned citizens launched a discussion about safety at schools. Izvestia writes that the Ministry of Education and Science has drafted a government resolution on the anti-terrorism protection of schools, under which schools would be issued "security certificates" and should also introduce the position of deputy director for terrorism protection.