Euromaidan activist gets 50 months in jail for attack on special forces officer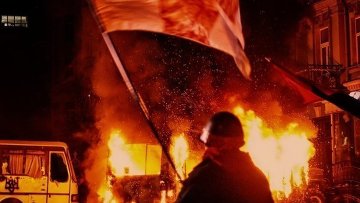 12:36 15/05/2015
MOSCOW, May 15 (RAPSI) – Euromaidan activist and former Ukrainian police officer Alexander Kostenko was convicted of taking part in mass riots in Kiev in February 2014, attacking a Crimean special forces officer and sentenced to 50 months in prison, RIA Novosti reported on Friday.
Kostenko was charged with causing bodily harm to Berkut officer Vitaly Poliyenko motivated by ideological hatred or hostility and unlawful purchase, storage, and possession of weapons and ammunition. He has pleaded not guilty.
Chief Prosecutor of Crimea Natalya Poklonskaya claimed that Kostenko was linked to Ukraine's nationalist Svoboda party.
Poliyenko identified Kostenko as the attacker who threw a piece of stone pavement at the Berkut officers. He said he remembered the activist's face clearly. Poliyenko's fellow officers who were by his side at the time of the attack also identified Kostenko.
Poklonskaya requested that Kostenko be found guilty, sentenced to four years and three months in prison, and fined 80,000 rubles ($1,600).
Kostenko's lawyer claimed in court that his client did not participate in clashes with Berkut officers and was engaged in providing medical help to the injured, including police officers. He also said that Kostenko was not involved in Svoboda party activities.
Maidan Nezalezhnosti (Independence Square) is the main square in Kiev, which was occupied by supporters of European integration on November 21, 2013, the day after the announcement of then Prime Minister Nikolai Azarov that the EU association agreement would be suspended. Later, Maidan became the site of violent clashes between the police and protesters. The most violent clashes took place in the street next to the square. Dozens of people were killed in street fights.