Alleged accomplice of ex-Makhachkala mayor refuses to testify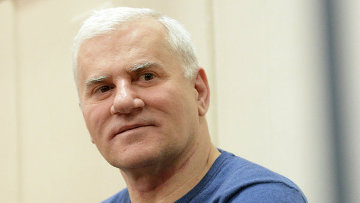 13:19 27/05/2015
MOSCOW, May 27 (RAPSI) - Former assistant prosecutor of Khasavyurt (Dagestan), Magomed Abdulgalimov, who was convicted of organizing several murders and attempted murders, has refused to testify in a case involving the ex-mayor of Makhachkala, Said Amirov, and other defendants, RIA Novosti reports on Wednesday from the North Caucasus District Military Court.
The defendants include Said Amirov, Murad Aliyev, three Akhmedov brothers, Yusup Dzhaparov, Magomed Kadiyev and Zubair Mutayev. As earlier reported by one of Amirov's lawyers, they were detained based on Abdulgalimov's testimony.
The suspects were planning a terrorist attack and were involved in the assassination of Makhachkala chief investigator Arsen Gadzhibekov in 2011, according to investigators.
Gadzhibekov worked on a number of high-profile criminal cases, including the 2010 twin bombings in Kizlyar, a town on the border with Chechnya, which killed 10 and injured 270. He was also investigating misconduct allegations against members of the Makhachkala city administration headed by Amirov, according to Investigative Committee spokesman Vladimir Markin.
Abdulgalimov refused to testify because three of his cousins are among the defendants. According to Article 51 of the Russian Constitution, nobody is obligated to testify against themselves, their spouse or close family.
Last September, the court sentenced Abdulgalimov to 11 years in a high-security prison, including on counts of organizing the attempted murder of Sagid Murtazaliyev, Head of the Pension Fund, and the murder of investigator Arsen Gadzhibekov, which was allegedly requested by Amirov.
Abdulgalimov also pled guilty to organizing a criminal group that attacked the Moskva cultural center in Kaspiisk with a grenade launcher. The group also tried to kill an employee of the Dagestani Prosecutor's Office. Abdulgalimov admitted his guilt, and the case was tried on special terms.
Amirov was arrested in Makhachkala in June 2013. He was sentenced last July to 10 years in prison for plotting to shoot down a plane of his political opponent Sagid Murtazaliyev.
Amirov's nephew, Yusup Dzhaparov, received eight and a half years in a high-security prison.