Russian nationalist Potkin to remain in detention until October 15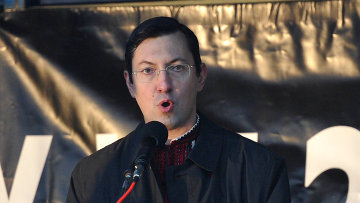 17:41 28/05/2015
MOSCOW, May 28 (RAPSI) - Moscow's Khamovnichesky District Court on Thursday extended until October 15 the detention of nationalist Alexander Belov (Potkin), accused of laundering money embezzled from BTA Bank, RAPSI reports from the courtroom.
Belov asked the court to place him under house arrest.
Belov was arrested on October 15, 2014 at the Hotel Intourist Kolomenskoe in Moscow on charges related to the embezzlement of $5 billion from BTA Bank. At the time of the arrest, Belov allegedly had documents on him that effectively tied him to the embezzlement.
The court initially placed Belov under house arrest, but later sent him to a pretrial detention center.
Investigators believe that Belov was a mastermind in a money laundering operation in 2012-2014. He was also suspected of involvement in laundering money that was embezzled from BTA Bank by its former chairman Mukhtar Ablyazov.
Belov's attorneys deny the charges claiming that they are unsubstantiated and that he is being persecuted for political reasons.
The investigation will expire on October 31, 2015.
Ablyazov, who allegedly defrauded BTA Bank of more than $6 billion, left Kazakhstan for the UK, where he was granted political asylum in 2011.