Lawsuit over punishment for distorting WWII facts dismissed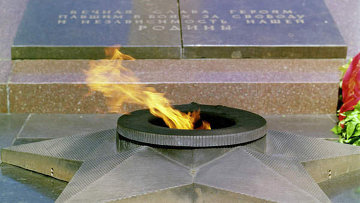 18:23 28/05/2015
MOSCOW, May 28 (RAPSI, Alexei Afonsky) - The Zamoskvoretsky District Court of Moscow on Thursday dismissed a lawsuit filed against Russia's Ministry of Justice for refusal to draft a bill on liability for distorting the facts of World War II, a RAPSI correspondent reports from court.
A few months back, attorneys Marat Amanliyev and Nikolai Maksimov told RAPSI that they addressed the Ministry of Justice directly with an initiative to amend the Code of Administrative Offenses to introduce legal liability for issuing "public statements that downgrade the Soviet Union's role in World War II, for distorting and denying the Soviet Union's achievements in the war as well as for calling for any revision of the outcome of the war and the Soviet Union's role in it."
According to the initiative's authors, offensive statements are intended to degrade the great contribution of the Soviet Union in the victory over Nazism in WWII. There have been regular attempts to revise the events of the war.
Lawyers claim that various Soviet victories over Nazi Germany changed the course of the war, but some public figures and politicians shamelessly and intentionally try to distort events. Russian law does not currently contain a direct ban on such statements or any liability for them.
Amanliyev said the Ministry of Justice had rejected the proposal.
The lawyers appealed to the court to overrule the ministry's refusal and compel it to draft a bill. The proposed penalty would be 40 to 120 hours of community service.At the hearing, a review by the Ministry of Justice was read, according to which the ministry does not see the necessity of drafting and eventually passing a bill because the plaintiffs failed to provide enough evidence that the initiative was approved or supported by anyone except themselves. Additionally, the proposed measures are already included in other pieces of legislation, for example, liability for denying historical facts related to the Great Patriotic War and the outcome of the Nuremberg Trials.
In response, one of the authors of the initiative, Marat Amanliyev, argued in court that current legislative regulations handle distortion of facts about the Great Patriotic War while he is fighting for acknowledgment of the Soviet Union's role in World War II.
The court did not agree with the plaintiff's argument and rejected the suit.