Alleged suppliers of weapons for nationalist group BORN leader to go on trial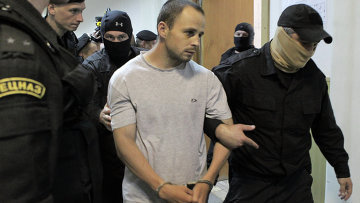 15:12 25/06/2015
MOSCOW, June 25 (RAPSI) - Three men who allegedly provided weapons to Nikita Tikhonov, one of the founders of a notorious extremist movement BORN, will stand trial in the Leningrad Region, RIA Novosti reports Thursday citing the Investigative Committee.
According to investigators, St. Petersburg residents, Igor Seleznyov, Dmitry Rodionov and Vladimir Lapin, provided weapons to Tikhonov in late 2008 and over 2009.
They allegedly made and sold a 9mm submachine gun, a homemade pistol, a Nagant revolver, a sniper rifle, a Kalashnikov AKS-74U and homemade explosives.
A criminal case was opened on several crimes, including illegal weapons manufacturing, which is punishable by up to 8 years in prison. The case and the indictments have been forwarded to the court.
Tikhonov, who is believed to be one of the group's leaders, was convicted and sentenced in May 2011 to life in prison for the murder of lawyer Stanislav Markelov and Novaya Gazeta journalist Anastasia Baburova.
Tikhonov was sentenced to 18 extra years in prison last September for killing federal judge Eduard Chuvashov in 2010.
His accomplice, Yevgenia Khasis, was given 18 years behind bars.
In April of this year, the Moscow Region Court sentenced two other BORN members to life behind bars and another to 24 years in prison.