Extension of probation period for Navalny in Kirovles embezzlement case upheld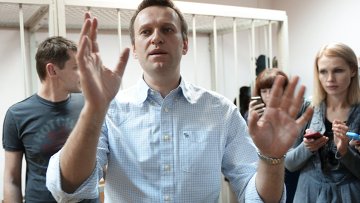 16:22 25/06/2015
MOSCOW, June 26 (RAPSI) – The Moscow City Court on Thursday upheld the extension of a probation period for opposition politician Alexei Navalny, RAPSI reports from the courtroom.
In May, Moscow's Lyublinsky District Court denied a motion filed by the Federal Penitentiary Service seeking to jail Navalny. However, the court increased a probation period for him to 5.5 years in the Kirovles embezzlement case.
Prison authorities asked the court to jail Navalny for five years.
Navalny was given a five-year suspended sentence in July 2013 for embezzlement at the Kirovles timber company.
In December 2014, Navalny was given a 3.5-year suspended sentence in Yves Rocher case. His brother Oleg received a 3.5-year sentence in prison. They were convicted of stealing nearly 30 million rubles (about $555,000) from two companies, including Russian affiliate of Yves Rocher.
Since then, prison authorities repeatedly claimed a number of violations of law on behalf of Alexei Navalny.
Notably, he was placed in February under administrative arrest for distributing leaflets in the Moscow metro in violation of the procedure for public demonstrations.
Navalny became popular as the author of an anti-corruption blog. In 2013, he got 27% of the votes and came in second in the Moscow Mayoral elections. He was also an organizer of the protests in Moscow in 2011-2012, including a rally in May 2012 that resulted in public unrest and clashes with the police.