Main suspect in Nemtsov murder claims to have alibi again - lawyer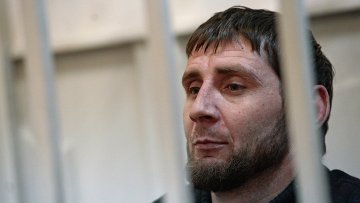 12:10 29/06/2015
MOSCOW, June 29 (RAPSI) – Zaur Dadayev, the main suspect in the murder of opposition leader Boris Nemtsov in February, said in a recent interrogation that he had an alibi for the day of Nemtsov's murder, lawyer Shamsudin Tsakayev told RAPSI on Monday.
"My client has been summoned for another interrogation. He explained in his testimony that on February 27 he was in the Ochakovo-Matveyevskoye district [western Moscow] and not in central Moscow. He has witnesses who can confirm his alibi," Tsakayev said.
He added that Dadayev spent the day with Ruslan Geremeyev, a former Chechen Interior Ministry officer who is suspected of complicity in organizing the murder of opposition politician Boris Nemtsov.
According to the media, police are searching for Geremeyev and his acquaintance, Ruslan Mukhudinov.
Nemtsov, co-chair of the Republican Party of Russia – People's Freedom Party (RPR-PARNAS) and former first deputy prime minister in the Yeltsin government, joined the opposition in the 2000s.
Investigators are looking into several theories regarding his murder, including a contract murder.
Five men are being held in detention until August 28 on suspicion of killing Nemtsov: Zaur Dadayev, Anzor Gubashev, Shadid Gubashev, Khamzat Bakhayev and Tamerlan Eskerkhanov.
Investigators believe that Dadayev killed Nemtsov, that Bakhayev provided information and was to hide his accomplices after the murder, and that Eskerkhanov was tracking Nemtsov's movements. Investigators have not reached any conclusions on the Gubashev brothers' role in the crime.