Three Russians to contest Crimea's integration in court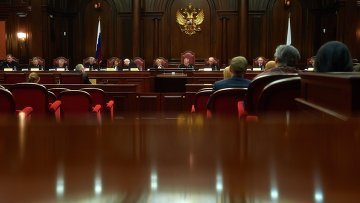 16:25 30/06/2015
MOSCOW, June 30 (RAPSI, Diana Gutsul) – Three Russians have filed a complaint with the Constitutional Court against the integration of Crimea, one of the applicants, Mikhail Anshakov, told RAPSI on Tuesday.
Anshakov said they filed a complaint after the Justice Ministry refused to register their international public movement called Union in Support of Russian-Ukrainian Friendship, on December 13, 2014.
The Ministry said the Union's claim to be an international organization because it "has a branch in a foreign state, the Republic of Crimea (Ukraine)," is ungrounded because Crimea is part of the Russian Federation.
The applicants said their argument is based on Clause 4 of Article 15 of the Russian Constitution, which says that "universally recognized principles and norms of international law as well as international agreements of the Russian Federation shall be an integral part of its legal system. If an international agreement of the Russian Federation establishes rules that differ from those stipulated by law, then the rules of the international agreement shall apply."
"An international Russian-Ukrainian border agreement reads that the territory of the peninsula, which incorporates the Republic of Crimea and the City of Sevastopol, is an integral part of Ukraine," Anshakov said.
He said Ukraine's territorial integrity, including Crimea, is also reaffirmed in many other international treaties and agreements, including the Russian-Ukrainian Treaty of Friendship, Cooperation and Partnership of May 31, 1997, and the Russian-Ukrainian Treaty of Cooperative Use of the Sea of Azov and the Kerch Strait.
The applicants say the Justice Ministry disregarded their argument that the application of Clause 4 of Article 15 of the Constitution must be applied in compliance with Russia's international treaties.
Mikhail Anshakov is chairman of the consumer rights society Public Control (OZPP), a "foreign agent" NGO, which has recently published a memo saying that Russian tourists visiting Crimea risk criminal liability for illegally entering a foreign state.