Trust Bank and Cypriote firm seek amicable agreement in $41 mln lawsuit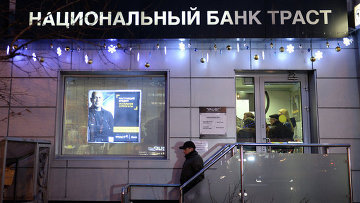 13:36 02/07/2015
MOSCOW, July 2 (RAPSI) - The preliminary hearings of a lawsuit filed by Trust Bank to collect over 2.3 billion rubles ($41 mln) from Belenfield Trade Limited have been postponed until August 26 as the parties are negotiating an amicable settlement, RAPSI reports from the courtroom on Thursday.
The case was postponed upon petition of the parties.
In its lawsuit, the bank is seeking a principal debt of 2.3 billion rubles ($41 mln) under a June 2014 loan agreement and interest, as well as a penalty of 33 million rubles ($592,000). The bank is also requesting that the pledged property be seized. Baltica Commercial Bank is a third party in the case.
Currently, the Moscow Commercial Court is hearing over a dozen of lawsuits filed by Trust Bank against foreign debtors to collect around 30 billion rubles ($538 mln) and around $100 million.
Specifically, the bank is suing Baymore Investments Limited for 6.7 billion rubles ($120 mln), Edenbury Trading Limited (Bermuda Islands) for 5.6 billion rubles ($100 mln) and TIB Investments Limited for $71.5 million.
The preliminary hearings for the above mentioned cases will take place between July and November.
Midsized lender Trust Bank reported losses of 18.8 billion rubles ($337 mln) in 2014 amid a financial crisis. As of December 1, 2014, its assets were estimated at over 290 billion rubles ($5.2 bln).
The Central Bank estimated that the bank's debts exceeded the value of its assets by 67.8 billion rubles ($1.2 bln).
Last April, the Ministry of the Interior announced that police had opened a criminal case against several managers of Trust Bank.
Investigators claim that between 2012 and 2014, former deputy board chairman of the bank Oleg Dikusar, former Trust Bank CFO Yevgeny Romakov, and several unidentified persons allegedly forged loan agreements for over 7 billion rubles ($125 mln) with several Cyprus-based companies, and for over $118 million with companies registered in other jurisdictions.
The Tverskoy District Court of Moscow extended detention for Dikusar, charged with embezzlement, until August 23. Dikusar may face up to 10 years in prison and is being investigated for involvement in several other crimes. The court also ordered the detention of Romakov until August 24.